Our Supporters: Victor Mendoza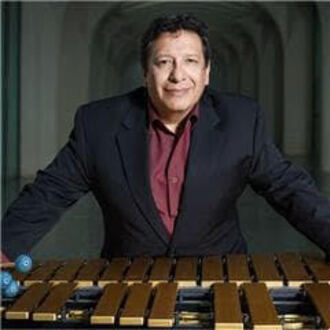 Victor Mendoza
Vibraphonist and Composer
Victor Mendoza is a leading international musician specialising in Latin jazz and world percussion.
About Victor Mendoza
Born in Mexico, Victor is an accomplished vibraphonist and composer who has worked with a long list of accomplished musicians, including Paquito D'Rivera and Danilo Pérez.
Critics have heralded Victor as one of the finest Latin jazz artists in our world today. His career includes performances with his own group alongside a large number of guest soloist appearances across the globe.
Throughout his career, Victor has travelled around the world to perform and teach. Victor has performed and recorded with the Brazilian Symphony Orchestra, performed at the World Festival Orchestra under the direction of Paquito D'Rivera, performed with the Milan Svoboda Orchestra in Prague, sold-out shows at the Queen Elizabeth Hall in London and in Tel Aviv, and as soloist with the Carlos Chávez Symphony Orchestra in Mexico City.
Some of Victor's most recent performances include a solo performance with the 85-piece Banda del Puerto in Valencia, Spain under the direction of award-winning conductor Isidro Coll Ballesteros. He also has an upcoming appearance with the Granada Symphony in Spain.
In recognition of his excellence, Victor has received recognition and awards from numerous organisations, including Latin Bear, Modern Drummer, Jazziz and the Smithsonian Institution.  "This is Why," one of Victor's previous recordings, led Latin Beat Magazine to name him as one of the Outstanding Latin Jazz Artists of the Year. Victor's recording "Black Bean Blues" was named one of the best Latin jazz recordings of the year by Modern Drummer Magazine and led Jazziz Magazine to dub him "the genre's leading vibraphone practitioner" and "one of today's most resourceful composers."
Victor is also a professor at Berklee University's College of Music in Valencia, specialising in contemporary performance. As a Professor at the Berklee College of Music and as clinician for Yamaha and Vic Firth, Victor has earned an international reputation as a jazz educator, regularly conducting master classes at major music schools, universities and music conferences around the world.
The Global Classroom is thrilled to welcome Victor Mendoza to our seventh classroom – Deep Breath – which takes place on World Breathing Day. Join us on April 11th 2021 at 16:30BST.
Subscribe to our Channel
Share this Page
Keep up to date
Subscribe to our Newsletter