Exploring the Benefits of Wim Hof Breathing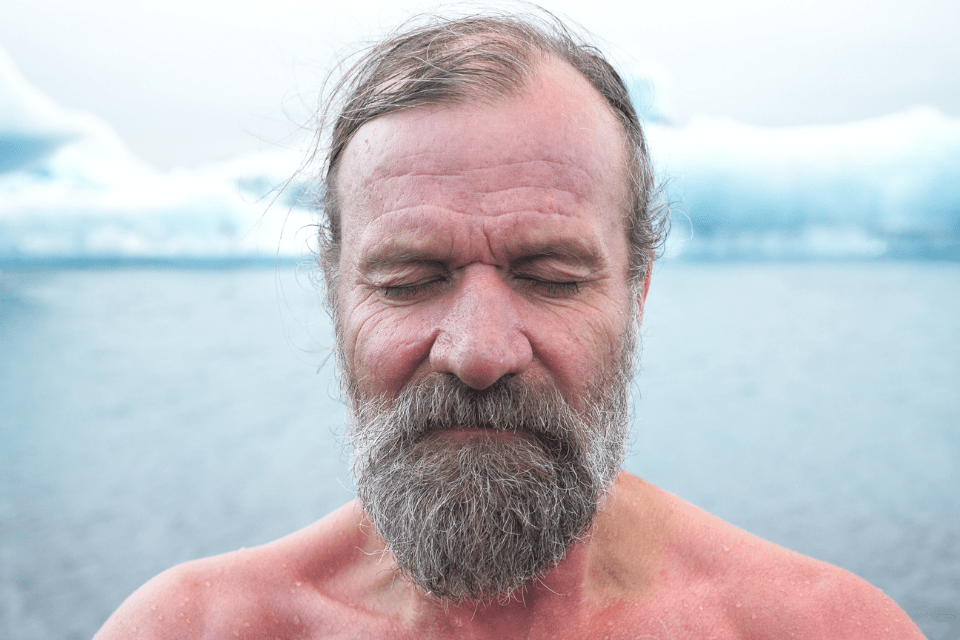 For the past 20 years, Wim Hof's breathing techniques have led him to break 26 Guinness World Records. From submerging himself in ice baths to running across the desert without water, Wim Hof has pushed his body to the limit on countless occasions.
The key to his success is the Wim Hof breathing technique; this method has numerous benefits, and we were thrilled to learn about this technique from Wim Hof himself in our seventh digital classroom, Deep Breath.
What is the Wim Hof breathing technique?
Known as The Wim Hof Method, Wim Hof's breathing technique focuses on taking conscious control of your breath. Taught via online classes or private instruction, the Wim Hof breathing method combines breathing exercises, meditation and cold exercises to develop mental strength and determination.
To reap the most benefits from Wim Hof breathing, it's recommended that you complete the training for at least 20 minutes every day. However, one of the key teaching points of Wim Hof's breathing is to listen to your body to ensure you don't force yourself into dangerous circumstances. 
What are the Wim Hof breathing benefits?
As a result of using Wim Hof breathing regularly, you can experience several mental and physical benefits. Here are five of the top Wim Hof breathing benefits that you and your children can acquire through the Wim Hof breathing technique:
Increased energy levels
Boosted immune system
Improved sleep
Workout recovery
Improved sports performance
Increased energy levels
The Wim Hof breathing method encourages you to release thoughts that are causing you stress, allowing you to focus on the things that truly matter in your life. Stress takes up a lot of energy, so reducing your stress levels provides an energy boost.
Boosted immune system
Wim Hof's breathing benefits have been thoroughly tested by scientists to understand the full range of health benefits associated with The Wim Hof Method. As a result, scientific research shows that people using Wim Hof breathing techniques have a stronger immune response to bacteria and virus pathogens that attempt to cause harm to the body. 
Improved sleep
Deep breathing helps to clear the mind of distracting thoughts, which is why Wim Hof breathing has been shown to improve sleep quality amongst those who practise it. As a direct result of this Wim Hof breathing benefit, people experience more energy throughout their day-to-day activities too. 
Workout Recovery
If you exercise regularly you'll know that aches and pains are part of the workout process. At times, this can hinder further progression in your training. One of the many Wim Hof breathing benefits is the decrease in recovery time following physical exercise.
Deep breathing helps increase the flow of blood to your sore muscles, providing them with the substances they require for faster recovery. 
Improved sports performance
As mentioned above, one of the Wim Hof breathing benefits is faster recovery from physical exertion. However, Wim Hof breathing also leads to heightened focus, improved cardiovascular health and increased muscle endurance. All of these benefits have a positive impact on physical performance during sporting activities.
Additional Wim Hof breathing benefits include reducing the side effects of arthritis, managing pain from fibromyalgia and relief from migraine. The Global Classroom was thrilled to welcome Wim Hof to our seventh digital classroom, Deep Breath, where Wim discussed his technique in further detail and shared some WIm Hof breathing with us.
You can enjoy the full classroom featuring Wim Hof and additional guests by subscribing to our YouTube channel. If you're looking to learn more about deep breathing, visit The Global Classroom's Deep Breath Hub for additional articles and resources.